Put Your Business Process Online in 2 Minutes
Business Process Management Made Easy
Learn how to create a Business Process in 2 minutes or view our Pricing Plans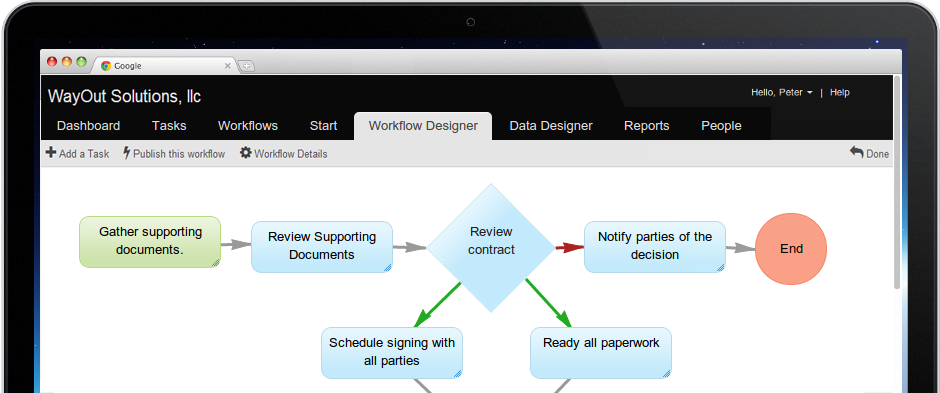 Increase your business process and workflow efficiency
Despite advances in technology most small and medium sized businesses still use paper check lists, email chains or spreadsheets to track their business processes.
Why?
Because until now Business Process Management, BPM software and Workflow solutions were overly complex and expensive! Flowmingo changes that. We offer a simple web based Business Process Management system that anybody can use.
Based on our research, a whopping 93 percent of small businesses - including those using QuickBooks as their accounting software - are planning and managing their business with a spreadsheet

Adam Neary, New York Enterprise Report
Designer

Design your Business Processes in our intuitive, drag and drop, workflow designer. Right from your browser.

No programming needed. No programming allowed!

Workflow and Task status

Easily track your business processes and tasks using an easy to understand and intuitive interface.

Schedule workflows to kick off on a specified date.

User Dashboards

Powerful dashboards help keep your user's workflows and tasks centralized. User are able to view all their tasks, workflows and recent activity all from one, intuitive screen.
Team Collaboration

Share comments and documents on tasks and workflows. Task comments roll up to the tasks's workflow providing a central place to find all the workflow's comments

Reporting and Metrics

Enhance your workflows performance by discovering and analyzing business process inefficiencies with easy to understand reporting.

Audit Trails

Visibility and accountability through full audit trails. All workflow and task activity is logged